Reno Car Accident Lawyer
Car Accident Cases in Nevada
As someone who has been in an auto accident, you know that there is no such thing as a minor crash. Even a low-speed collision can result in catastrophic injuries that change your life and put you in a financial bind. To get the auto insurance company to take your claim seriously, you should work with an experienced car accident attorney.
The Law Offices of Steven J. Klearman & Associates in Reno is dedicated to doing the most for our clients who have been injured in car accidents.
From gathering evidence, filing your claim, and challenging insurance company denials, we can handle all aspects of your case with one goal in mind: securing maximum compensation on your behalf.
On This Page
Make Our Team Your First Choice After a Crash
To schedule a free, confidential consultation with our Reno car accident attorney, dial (775) 573-0229.
What to Do After a Car Accident
The steps you took immediately after your crash are important. The most useful evidence of liability was likely gathered during this time.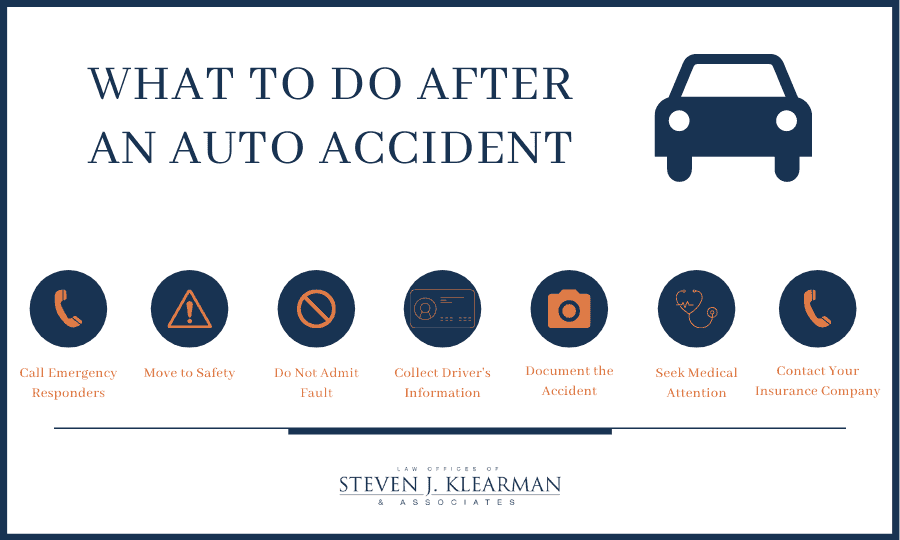 Tell our Reno car accident lawyer if you did any of the following after your crash:
Called emergency responders: Police officers, paramedics, and firefighters who show up to your accident will all create reports about what happened, probably at the end of that same shift. Our attorneys can locate those reports when working on your claim. It is possible that they wrote down details you missed or noted who they think was liable for the accident.
Took photographs: Tangible evidence is the most convincing the insurance representatives and juries. If you have photographs or video footage taken at the scene of the crash, let us review to figure out what is most useful for your claim.
Collected driver's license information: The other driver's DMV record could expose a history of reckless driving and accidents. In difficult cases, we could attempt to use their driver's license information to get a copy of their driving record.
Spoke to an insurance company: Hopefully, you only spoke to your insurance company if you spoke to any insurer at all. Ideally, you will leave all insurance communications up to your attorney, but, if you already spoke to your insurer, then we can follow-up with them to get information about what they know.
Visited a doctor: Medical checkups after a car accident are crucial to preserving your health and establishing when your injuries occurred and why. If you have not already seen a doctor, then arrange to see one today at an urgent care facility, even if you feel relatively fine.
What Compensation Can I Recover for a Car Accident?
We might be able to seek compensation in your car accident claim that pays for:
Medical expenses already incurred
Future medical expenses, including years into the future
Physical pain, mental suffering, and emotional trauma
Hardship caused by physical disability
Lost wages and reduced income capacity
Property repairs or replacement
Nevada's Comparative Fault Rule
Determining fault in your car accident claim is the foundation of making that claim successful. With the right evidence and argument, our lawyer can aim to reduce your liability down to 0%, which would let you seek 100% of your damages from the at-fault party or parties.
In some cases, though, a claimant is partially liable for their accident. While this does complicate a case, it does not invalidate the claim. Nevada allows you to file a claim for damages against another party in a car accident as long as you are not 51% liable or greater.
When it will be unlikely to lower your liability to 0%, we can still work tenaciously to minimize it to a number that allows you to still seek a useful amount of compensation.
One Law Firm for Any Car Accident Claim
The Law Offices of Steven J. Klearman & Associates in Reno takes the complications out of car accident claims. Whether you were hit by a drunk driver, a texting driver, an exhausted driver, etc., we are capable of thoroughly investigating your claim, compiling evidence, calculating your damages, and bringing the fight to any insurance company that wants to sell you short. We stand by your side, so you never feel alone as your case progresses.
See what we can do for you today. Dial (775) 573-0229.
Hear from the People We've Helped:
"Working with Steve and Laura was a great experience. After getting into a car accident, I was referred to them and wasn't disappointed. Everyone was very knowledgeable and helpful following the accident. They referred me to a reputable chiropractic office in town and helped get that set up.
The staff is always able to be contacted and has time to review any questions down the line. Very easy to get a hold of by phone or email throughout the process. Very easy to navigate the settlement and I had the utmost confidence if it were to be pushed into court. Definitely recommend for anyone considering this office for future legal practice."
- Wyatt S.
Featured Client Testimonials & Reviews
Working With The Law Offices of Steven J. Klearman & Associates
- David

- Tony B.

- Heather

- Harold

- Margaret
A Tradition of Excellence
Our Commitment To Our Clients
Fast and Caring Service

Our office is full of friendly, caring, extremely experienced people who will take the time to talk to you about your case when you call.

A Strong Track-Record of Favorable Outcomes

We've handled thousands of personal injury cases with a track record of success. We regularly obtain six and seven-figure results for our clients.

Over 30 Years of Legal Knowledge & Experience

Our Reno-based founding attorney Steven J. Klearman has over 31 years of experience handling serious injury cases in northern Nevada courts.

Board Certified Personal Injury Specialist in the State of Nevada

Fewer than one percent of Nevada attorneys are Board Certified to handle Personal Injury cases.